Making the most of your property while you are away...
For buyers, should you want to rent out your property in Oliva we can manage the whole process for you. We are happy to discuss our services with you in detail to develop a package that most suits your requirements.
For those looking to rent, please take a look at our rentals section for a selection of some of our properties available in Oliva, and surrounding areas in the Costa Azahar.

Parasol Property Rentals

Thinking of building a new swimming pool?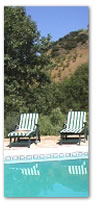 As you may have noticed, many holiday home owners decide to make improvements or extensions to their properties. Perhaps that pool that you've been always been thinking about.
At Parasol, we have commercial project management expertise and would be delighted to assist you in this sometimes difficult process. This can be as simple as obtaining quotations from local contractors or as complicated as managing the process in its entirety, you decide. We're only a call away
Parasol Project Management